Show Info

Venue

Törnävänsaari [Provinssirock Festival - Island stage]

City

Seinäjoki

State

Finland

Also performing

Black Sabbath, Dimmu Borgir

Stage time

45m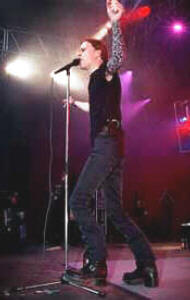 Line-up
Migé Amour: Bass
Linde: Guitar
Antto Melasniemi: Keyboards
Pätkä: Drums, percussion
Ville Valo: Vocals
Set List
Notes & Trivia
This set list is incomplete.
Excerpt taken from Synnin Viemää:
"1997, when the burning of churches in Norway escalated, we played at the Provinssirock festival for the first time on an island stage. Dimmu Borgir and Black Sabbath performed at the same festival. The media made a huge fuss and claimed that churches were burning and Satanists were running wild. Some guy even threatened that a nearby wooden church would burn. So at the festival there were many Jehovah's Witnesses who blessed our stage with holy water before we performed. At the time the police and TV interviewed me about the whole thing. But there were no real problems; it was just one big laugh."
Note about this excerpt, Ville says it was 1997 but Black Sabbath didn't perform at the festival that year.
Bootleg Recordings
External Links
Community content is available under
CC-BY-SA
unless otherwise noted.